Green Equipment Solutions from John Deere
John Deere has recently unveiled a new line of green equipment solutions at the GCSAA conference and trade show. This line of equipment is designed to meet the needs of professionals and contractors who are looking for efficient, environmentally friendly, and versatile tools for their operations. The line includes a green mower, fairway mower, universal rake, and Gator, and is set to be available for order starting Feb. 13.
185 E-Cut and 225 E-Cut Electric Mowers
The 185 and 225 E-Cut electric mowers are designed to provide a quiet and efficient solution for professionals who require an electric mower. These mowers feature an independent, front-mounted floating cutting unit that is powered by a 58-volt lithium-ion battery with a maximum capacity of 3.56 kWh. The controllers provide power to the electric motors that control the gears and drum, resulting in nearly silent operation. This allows for a working window where potential morning or late evening noise is a concern, without sacrificing performance.
The 185 and 225 E-Cut can cover approximately 50,000 square feet between charges. They are equipped with an advanced TechControl display that allows operators to adjust mowing frequency based on reel and ground speed, 10 handlebar height positions, and forward/backward adjustments for maximum comfort and ease of operation and turns. The models also feature a dual traction reel for easy steering when turning, and use the same attachments as the 180 and 220 E-Cut hybrid walking mowers.
6700A E-Cut and 7700A E-Cut Hybrid Mowers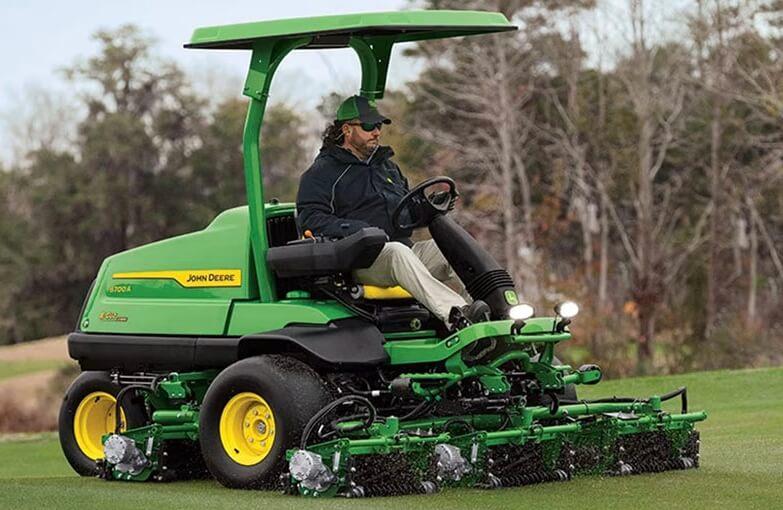 The 6700A and 7700A E-Cut hybrid models are designed to provide a versatile solution for professionals who require a hybrid mower. These mowers have mowing, scarifying, and scalping capabilities and can reduce fuel consumption by up to 30 percent. By electrifying the drum circuit, hydraulic leaks have been reduced by as much as 90 percent. An advanced LoadMatch system with an intelligent alternator prioritizes cut quality in demanding applications.
TruFinish 1220 Universal Rake
The TruFinish 1220 universal rake is designed to help save time by raking hoppers and field surfaces, reducing labor costs, and ultimately increasing crew productivity. The rake features an upgraded hydrostatic drive with a choice of 2-wheel or 3-wheel drive, allowing customers to customize the drive to suit their needs. Customers who prefer lighter machines can take advantage of the 2WD option with higher hauling speeds, while those who require greater efficiency when working in environments where more traction is required can use the 3WD option.
Other features of the TruFinish 1220 include a larger engine and increased fuel capacity compared to previous models, improved traction speeds, and a rear attachment system that helps save time when changing rear attachments. Multiple attachments are available, including brushes, scarifiers, and light sets.
Gator GS and Gator GS Electric
The 49.3-inch Gator GS and Gator GS Electric cargo platforms are smaller and narrower versions of the Deere off-road truck. They make it easy to haul tools, equipment, and materials around the track with 13.1 cubic feet of capacity and 800 pounds of payload. Both versions of the Gator feature bucket seats with high back, two standard USB ports, a low-force steering system, and multiple storage compartments. Weather protection for both the operator and passenger is essential, and each machine comes with a standard dealer-installed canopy.
The Gator GS is powered by a 14.25 horsepower, electronically injected gasoline engine and is easy to operate with a foot-operated start and infinite speed options that require no gear shifting with
John Deere has once again demonstrated its commitment to innovation and sustainability with the launch of its green equipment line. The 185 and 225 E-Cut electric mowers, 6700A and 7700A E-Cut hybrid mowers, TruFinish 1220 universal rake, and Gator GS and Gator GS Electric represent the company's efforts to provide customers with environmentally friendly and efficient solutions for their lawn and turf management needs. With features such as advanced displays, reduced fuel consumption, and electric motors, these products offer benefits both in terms of cost savings and improved performance. Whether you are a professional landscaper or a homeowner, John Deere's green equipment line has something for everyone. With these products available for order starting Feb. 13, now is the time to consider making the switch to a more sustainable and efficient lawn and turf management solution.