Explore the manufacturing process of vehicles such as gigantic dump trucks, motor graders, and wheel loaders
Whenever you enjoy the taste of a flavorful corn kernel or savor a bite of freshly baked, crispy bread, it's important to acknowledge the hard work of farmers. The US Department of Agriculture reveals that farming and food-related sectors played a significant role in adding approximately $1.3 trillion to the country's gross domestic product in 2021.
It's evident that agriculture plays a pivotal role in our lives, just as crucial as the machinery that readies the soil, sows and nourishes the seeds, meticulously eradicates weeds, and reaps the bountiful harvest. Beginning in 1837, John Deere's journey commenced with the creation of a steel plow, evolving into a contemporary enterprise that crafts intricate and advanced equipment.
However, John Deere, headquartered in Illinois, goes beyond the production of agricultural machinery like tractors and combines. The company also fabricates robust construction and forestry equipment, including dump trucks, motor graders, and skidders. Delve into the realm of these massive machines and the dedicated individuals who assemble them within the John Deere Davenport Works facility located in Davenport, Iowa.
Seating quality has seen substantial improvements compared to the past. Many seats now incorporate features like heating, shock absorption, and other amenities, enhancing the ability for individuals to work comfortably for extended periods. An example can be found in the workstation lift table, which adjusts to different heights through a scissor lift mechanism concealed under yellow and black accordion safety vinyl. This adaptable design caters to individuals of various sizes, a crucial element in minimizing fatigue on the factory floor.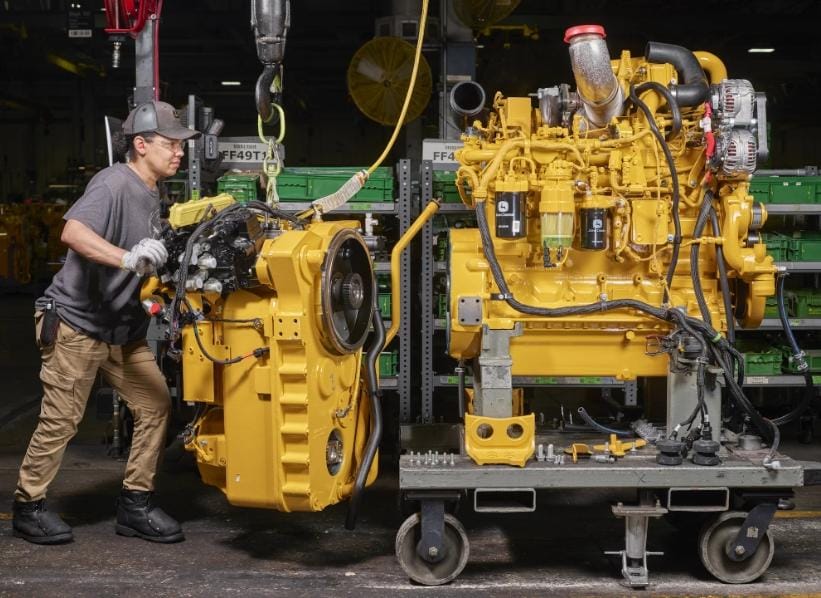 In the motor grader section, workers like Annette Diericks utilize a hoist to link the transmission and engine together. After the secure connection is established, the assembly is moved to the primary assembly line for integration into the engine frame. Without these aiding tools, the task of lifting these hefty components would be incredibly challenging. With the robust engine and transmission successfully in position, the completed motor grader has the capacity to rapidly level expansive surfaces for road construction or maintenance purposes.
Resembling a colossal watch gear fit for Godzilla, this immense circular metal structure plays a crucial role in John Deere motor graders. It connects the moving components of the machinery to its frame. Positioned in the upper left corner, a specialized tool guarantees precise torque application during the assembly process, ensuring the components fit seamlessly together.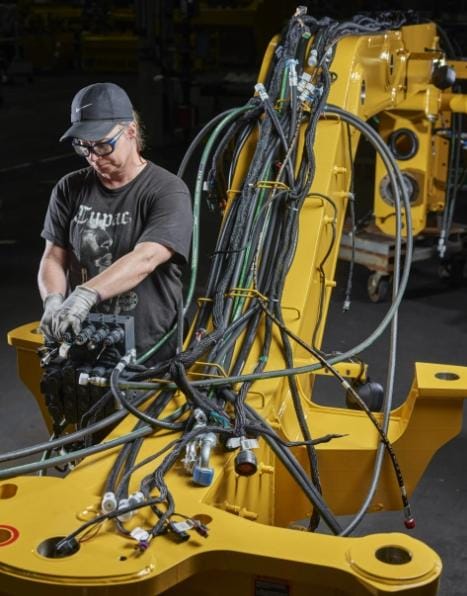 A network of black hoses gracefully extends towards the rear axle of a motor grader's main frame. In this installation phase, assembler Shannon Adamson utilizes computer-based smart tools to ensure the precise application of force and accurate configuration of parts, preventing any potential entanglement issues.
Though it might resemble a prop from a Transformers movie, this incomplete structure is a crucial component of an articulated dump truck in the making. Prior to reaching this stage on the assembly line, the vibrant yellow frame is equipped solely with the engine, transmission, and hydraulic fluid tank. At this juncture, specialized lifting equipment is employed by workers to raise the cab onto the designated mounting posts. Simultaneously, the cooling package is integrated to guarantee the engine's optimal performance even within the dusty conditions it encounters.
Within a forest setting, loggers rely on skidders such as this vibrant green apparatus to haul felled trees out of wooded areas. During its concluding assembly stage, depicted above, the skidder is deliberately inclined to allow operators to conduct supplementary tasks beneath the cab. Subsequently, it is raised to an upright position and arranged for the infusion of essential fluids such as oil, coolant, and fuel before its inaugural start.
Envision the capacity of a 3,000-gallon metal container to accommodate numerous scoops of ice cream. However, the purpose of this articulated dump truck bucket is directed toward more rugged industrial endeavors. Both the bucket and the accompanying vehicle are engineered for traversing substantially rougher terrains, far from the domains explored by an ice cream truck. A robotic system is harnessed to ensure precision and uniformity in the requisite welds. Two robotic arms collaborate seamlessly to sustain continuous welding for six consecutive hours. In its entirety, the Davenport, Iowa factory employs 55 robotic systems within the welding and painting processes, generating remarkable consistency in craftsmanship while obviating the necessity for humans to undertake tasks prone to inducing significant physical fatigue.
Bins akin to the one depicted in the preceding image eventually undergo a yellow painting process before becoming integrated into a truck. Shown above, the John Deere 310 P-Tier articulated dump truck exhibits the capacity to manage a payload of 62,005 pounds. A larger iteration, the 410 P-Tier, possesses the capability to accommodate an additional 20,000 pounds along with a slight margin. These vehicles incorporate attributes reminiscent of passenger cars, encompassing onboard diagnostics, and are further augmented with specialized engineering components like onboard payload weighing and pressurized cabins. As the assembly process concludes, hydraulic hoses are interconnected and fluids are replenished. Subsequently, the truck's bin is elevated for the first instance.
In the process known as "pinning the bucket," assembler Mike Shaw is getting ready to affix a large yellow bucket to the front end of a wheel loader. Shaw is securing a set of robust chains, while the pouch on his right hip accommodates a wireless remote control, enabling him to maintain a safe distance during the operation. Designed for a 744L Wheel Loader, this bucket boasts a five-cubic-yard capacity, and its operational weight (including fuel and the operator) commences at approximately 56,000 pounds. This weight surpasses that of a regional jet!
Prior to receiving its distinctive bright yellow paint, the bucket of a 944K Wheel Loader undergoes a process of enhancement by sheet and plate steel fabricators such as Devon Stahmer, who install formidable teeth capable of crushing quarry rocks. Weighing approximately 120,000 pounds, this wheel loader holds the distinction of being the largest piece of equipment produced by John Deere. Its weight is comparable to that of 26 Toyota Tacomas. With a capacity of 2,000 gallons, the bucket can hold the equivalent of eight average-sized hot tubs. Its primary function involves grabbing substantial chunks of aggregate rock and lifting them into trucks for transportation.
A wheel loader, minus its front bucket, is stationed at a testing station, a crucial step during both the midway and final inspections of each John Deere machine. Each unit undergoes rigorous testing, and every component is linked to a diagnostic tool to identify any unexpected issues before it leaves the assembly line. An operator meticulously evaluates diverse parameters, cycling through various test functions and machine functionalities to ensure flawless installation and readiness for the next production phase. Notably, lights positioned underneath the machine illuminate the testing process. In the future, this wheel loader will excel at lifting and relocating rock, dirt, manure, or feed—a far more efficient approach than relying on a shovel.